Does karaoke run in your veins? Do you karaoke more than four times a week? Are you the go-to person for entertaining a soirée?
If you answered YES more enthusiastically with every question, congrats, we officially name you an honorary KJ (karaoke jockey).
And whether you are a real KJ, or an honorary one, our pro features are designed to wow the singing crowd and make your life as the KJ King (or Queen) easier!
Offline Sync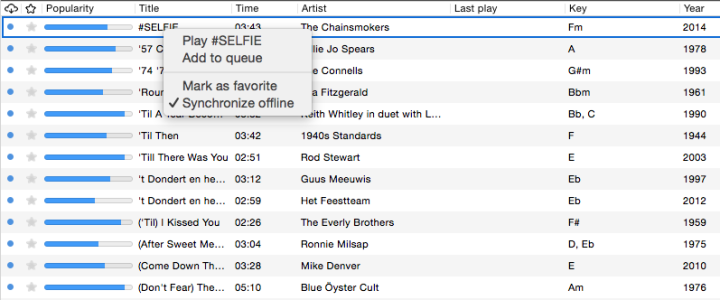 Imagine the scene: you're at the party (far from your high speed internet at home) and the singing sessions have turned into stop and go due to a spotty connection. Connecting to your hotspot isn't helping, nor will it with your monthly expenses.
Before you start wiping off beads of sweat that are quickly accumulating on your forehead, remember that as a KaraFun Pro user, you benefit from syncing the entire catalog offline! That's 44,000 songs that will play without internet and a singing catastrophe averted!
Note: A minimum of 140GB of space is required to sync the complete catalog. Also, allow yourself the necessary time to sync as the process can take several days depending on your device and internet connection. Read more about offline sync.
Scrolling Banner and Remote Control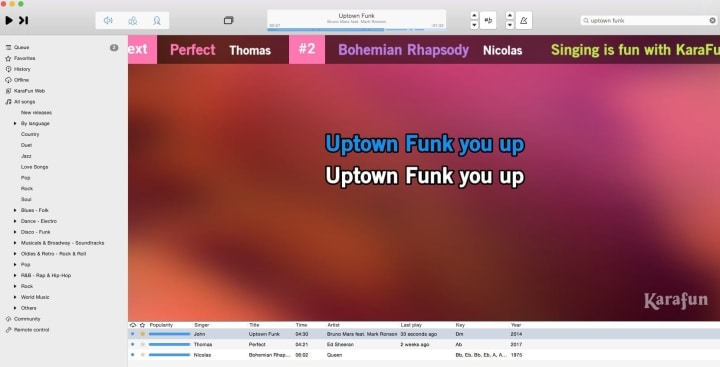 You find yourself frantically scribbling requests from Cathy and Katie on a cocktail napkin, while Jimmy and Joe are squabbling over whose turn it is to sing, and suddenly you notice a headache coming on and spot a nightmare in the making.
With KaraFun Pro, quietly kick up your feet and sip your cocktail and let KaraFun do the work for you. Activate "Ask singer's name when adding to queue" and then give access to singers to browse the catalog and add their selections directly from their smartphones with the remote control feature. Thanks to the scrolling banner, upcoming singers' names will scroll across the screen. Easy-peasy!
Logo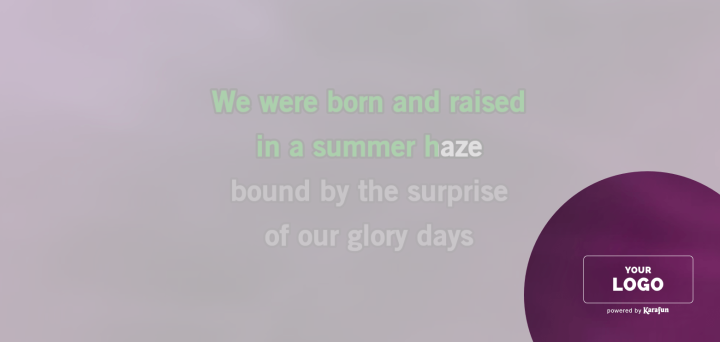 Ask any marketing or branding guru and they'll likely give you a list as long as The Beatles musical contributions as to the importance of branding. We may not be gurus on this subject, but we do recommend adding your logo. Adding a logo on KaraFun is as easy as singing Tequila (only one word to remember!). Here's how!
The list doesn't stop there, our pro users also benefit from:
access to KaraFun from many devices with one account with a multi-room subscription,
session management, blocking certain settings for an allotted time,
priority support,
copyright coverage when playing in public spaces,
access to the integral catalogue,
and more!
Want to test the pro subscription?
Try out our weekly pro pass. It'll give you all the merriment of the monthly pro subscription for seven glorious days of song!