Prepping for a karaoke
with friends?
KaraFun is easy to use and has a music catalog for any taste! Follow our three-step guide and get singing!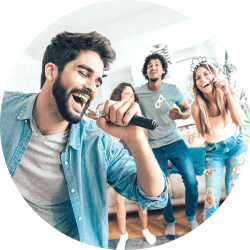 Install KaraFun
Get KaraFun on your PC, tablet and smartphone on Windows, Mac, iOS or Android. If you've got Android TV, even easier! Install the app directly on your TV and in just a few steps, you're singing!
Choose the KaraFun version that's best for you.
… and get the party started!

Spice up your party!
Connect your device to a second screen
Connect your device to any projector or TV - via wifi or with an HDMI cable - for the complete karaoke experience. Good times guaranteed!
Questions? Need help? Check out the KaraFun help section.
Use your smartphone to control KaraFun
Connect any smartphone with our remote feature and you can add songs, change key and control KaraFun. No need to install anything, just connect via a QR code or a URL link and you and your guests can start singing can even send selfies and pictures directly to the TV!
Learn more

Check out our catalog of thousands of hits and classics
Rock, Pop, Rap, Funk.... thousands of the latest hits and your favorite classics to get the party started! Looking for a specific genre or in a certain kind of mood? Opt for one of our pre-made playlists. Rock Legends, TV Shows, K‑Pop…, you'll find exactly what you and your friends are looking for!