Oh Oh Oh!
Santa Claus is coming to town
, followed by New Year's Eve. Great time for a KaraFun Karaoke Party!
Here's a quick post to rock your next karaoke party with KaraFun.
1. Create useful playlists
The best way to organize all the tracks you want to play, is to put them into playlists right in KaraFun Player. This way, you can find them easier later on.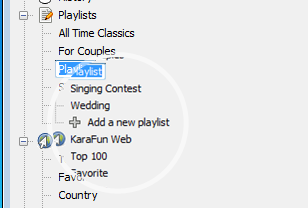 Here's a couple of ideas you can use: by singer ("Songs for Bob"), by genre ("Songs for Women"), by mood ("Wake Up People!", "Love Time").
You can even mix your own karaoke with the karaoke available on KaraFun to create the perfect mix!
2. Always be on the edge
Whether you have an iPhone, iPad or iPod, you can add karaoke to your Favorites list, on the go, and organize them later on your computer.
Make sure you installed KaraFun on your mobile. Say you hear a track and you think it would be great on karaoke. Search for it in KaraFun Mobile, press the
i
icon on the right side and "Add to favorites".
Back home, KaraFun Player will display all your favorites, and you're good to sort it wherever you want.
3. Prepare your setup
A good microphone makes a lot of sense for karaoke parties.
A simple USB mic plugged into your computer with 2.1 external speakers (2 Satellite Speakers + Subwoofer) might do the trick. For instance, Logitech has a nice variety of 2.1 speakers that will work for most cases.
You might also
plug your computer on your TV
and use the Dual-Screen feature of KaraFun Player to transfer the lyrics on your TV.
4. Stay organized
D-Day! You have everything setup, but when it comes to handling the crowd of singers asking you about their karaoke songs, then it can become messy very quickly. No problem, use the powerful Queue feature of KaraFun Player.
Simply search the track asked by the singer, add it to the queue (it will automatically be added at the end of the list). You will then be able to save the singer's name, desired tempo / pitch.
Smart also means flexible. You can change the order of the list, anytime.
You're all set
! Don't forget to
take a look at our offers
to enjoy the whole online catalog (over 51,000 songs) when karaoke time comes, and have fun!