Sing Karaoke with my iPhone or iPad on my TV/Projector
KaraFun on your iPhone or iPad
TV / Projector with video input (HDMI)
HDMI or VGA cable
Lightning to HDMI or VGA converter
or
KaraFun setup on your iPhone or iPad
Apple TV
---
Hosting a karaoke party at home? Getting ready for a birthday party? Or just want to get the full karaoke experience right from your living room? Here's a quick tutorial to help you play your favorite karaoke on your TV or projector.
Although this how-to is designed for intermediate users, give it a shot if you want to get the best experience: it's challenging but rewarding.
Let's get started!
Hook the cable converter to your iPhone / iPad
First of all, hook an adapter compatible with your device and your TV. You'll most likely need a Lightning to HDMI cable (these are standard today) but you need to check before your iPhone / iPad model (on your invoice for instance) and the inputs available on your TV to order the right cable, either from your local Apple Store or online (Amazon for instance).
Should you need help, feel free to ask your local dealer for assistance in choosing the right cables.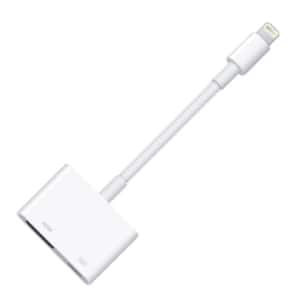 Find this product online:
Connect your device to your TV / Projector
Your iPhone screen should automatically be transferred to your TV. If not, make sure you have selected the right source on your TV (usually called AV) and your cables are tight and properly connected.
Launch KaraFun app on your device and start playing any song. Audio and video should transfer on your TV or projector automatically, no questions asked.
---
Troubleshooting
No sound is coming out of my TV / Video-Projector
First of all, bear in mind not all devices can send and/or receive sound through HDMI. A good test is trying to play music with another app. If sound also doesn't work, your TV might not be compatible with audio transport through HDMI.
In that case, you can try to plug external speakers to your iPhone / iPad headphones output.
Also make sure your cables are plugged all the way in and the volume of your TV is turned up.
Connect to the same Wifi network
First of all, make sure both your Apple TV and your iPhone / iPad are on the same Wifi network and have a strong signal. This is very important since poor signal might result in degraded performances.
Link your iPhone / iPad to your Apple TV
Swipe up from the bottom of the screen to open the Control Center, and select AirPlay or AirPlay Mirroring. Your Apple TV should appear in the list of devices.
Select your Apple TV. If you're running a version prior iOS10, you'll also have to make sure that you select "Mirroring".
If everything was done correctly, your TV should display the screen of your iPhone / iPad. If not, make sure you have selected the right input on your TV and all the cables are tight.
From there, it's easy: launch KaraFun app on your device, and you're off for endless singing!
---
Troubleshooting
I can't find my Apple TV in the list
If you can't find your Apple TV in the list, either it is not connected to the same Wifi as your device or it is not turned on. Make sure everything is connected properly and try again.
Is Airplay only working with Apple TV ?
Ask your questions
Have any additional question on how to use this feature? How to best set it up in your environment? Ask your question below.