Control KaraFun from another device
Remote control mode
One of our KaraFun apps
A smartphone or tablet with a browser (iPhone, iPad, Android...)
A working internet connection
---
Device : Computer (Mac or Windows) or iPhone / iPad
Whether you're planning a party at home, running a bar or working as a KJ, Remote control is a great way to involve your audience.
How about controlling KaraFun from any other device? Letting the singers browse the karaoke catalog, add songs they want to sing in the queue, and even send pictures to the screen, directly from their smartphone?
It's as simple as saying the words KaraFun Remote!
Launch KaraFun on the host device that will run the karaoke. You can find the icon in the Applications/Programs folder of your computer, or in your Dock. For mobile users, KaraFun is located on your homescreen.
When KaraFun is up and running, locate Remote control at the bottom of the sidebar, and activate the service. A barcode should show up on the app.
For iPhone/iPad users, go to the app Settings, and select Remote control. Switch the feature on.
If the barcode does not show, something might be preventing your computer from communicating with KaraFun. We recommend making sure you don't have a firewall blocking KaraFun and contacting us should the problem persist.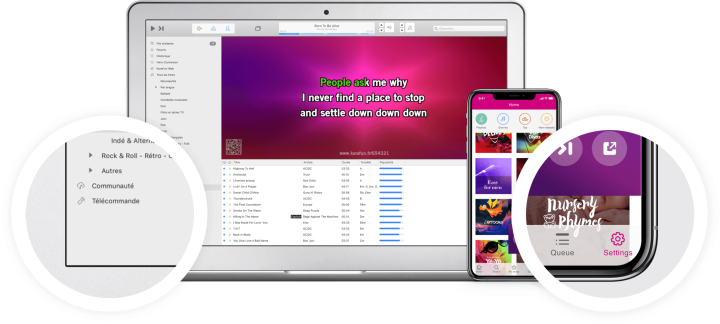 Scan the barcode with a dedicated app (there are many free barcode readers on the App Store for iPhone/iPad and the Play Store for Android), or enter the internet address that shows up (www.karafun.com/yourcode) in your phone or tablet internet browser.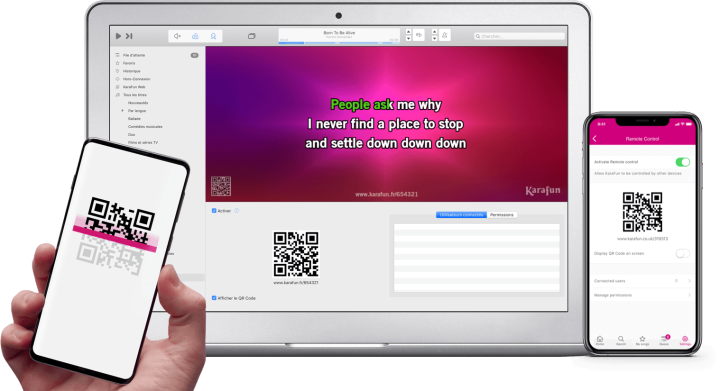 You're in! Your device should display the Remote control interface, allowing you to control the app from your device.

You can set the default permissions for the users right from within the app (under Permissions), and assign one or more users the role of Coordinator, giving them total control over the app (including Play / Pause, managing the queue etc).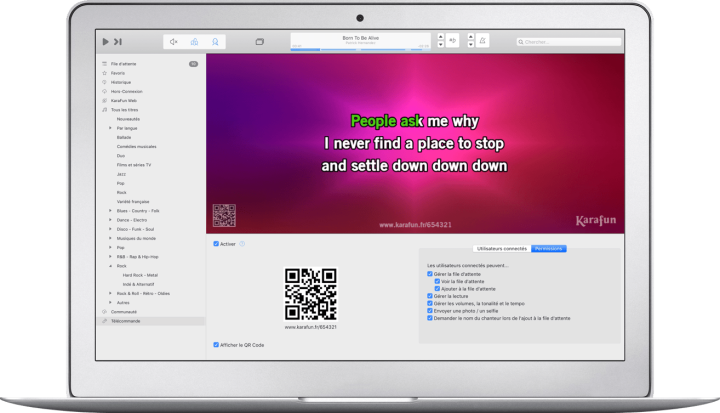 What you can do with Remote control
Remote control has plenty of built-in controls so that you can do everything from within your phone or tablet. Controls include:
Browse the catalog,
choose a song
Control the songs that are played
Change lead and background vocal volume and key
Why not give your friends and family full access so that anybody can send selfies, control playback features and add to the song queue with their favorites?
You can easily give full permissions by default to all users, hook your Mac to the TV, and then display the QR Code on the screen for easy access.
Why not give the remote address via URL or via QR code to your attendees so that they can browse the catalog before ever signing up for a song? Or go even further and let them add what they want to sing directly to the queue (karaoke self-service).
You can even give yourself full control from your second device and stay away from your computer, alongside your audience and save their requests directly into the app.
Same applies for karaoke bars! How about sharing the catalog with your customers? Give them the URL address and let them pick the songs they want to sing directly from their smartphone. No more paper catalog: it's cost-efficient and stays updated at all times!
Each room has a unique remote address, meaning you can let your customers login and have full access for a unique experience, or setup an iPad in the room, that controls KaraFun Mac hidden in a closet.
Ask your questions
Have any additional question on how to use this feature? How to best set it up in your environment? Ask your question below.