Sonny & Cher, Hall & Oates, The Everly Brothers, Outkast... So much sweet music has come in pairs. A certain magic can happen when you sing doubled up, but the duplicity can sometimes cause a rendition to go south if not well prepared.
Here are some tips (coupled with song suggestions) for duos to shine together as one!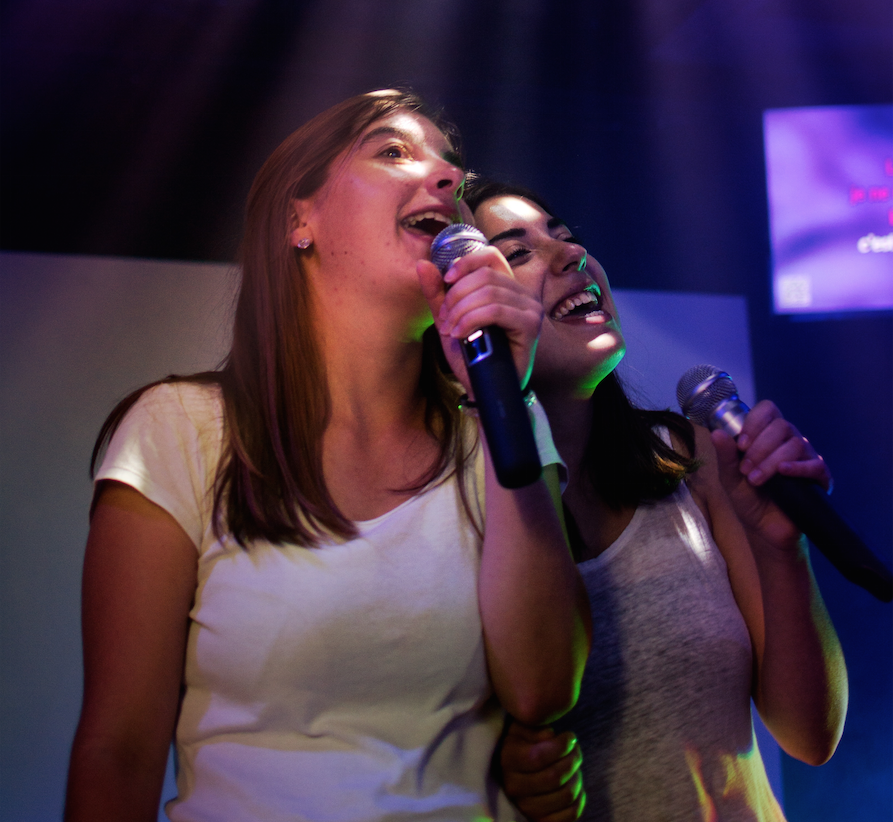 First, if you know your style and key, find the appropriate song to match (this article can help). If this is not the case, change the key of the song to adapt it to your singing instead of risking a missed note when belting out the high notes.
Duets aren't obligatory. More risky, perhaps to go at it alone, but if you do decide to take on a duet, try dividing the roles: one of the two can harmonize or one can accentuate the ends for example... the key is to not step on the other's toes and help each other to shine!
Know when it's your turn to sing. You have to imagine the duo as a race where you would be tied to the other: if one falls, the other does too. Try to know your partner's parts as much as your own that way you can anticipate when it's your turn (and help your partner should they falter in their own).
Do not forget that you and your partner are singing in front of an audience. You sing as a duet, so what's expected from you is an interaction, a complicity or a healthy rivalry. If there is no physical or visual contact between you both, the audience can sense it. But don't let your complicity take precedence over the show. If you sing with your best friend and spend your time laughing together for example, the public will quickly feel excluded.
Here are some ideas for songs to sing as a duet:
The breakout hit of 2017, "Despacito" lead the pack with almost 5 billion views on YouTube. The song brings together two Puerto Rican artists, Luis Fonsi and Daddy Yankee with a duet that combines their musical worlds, Latin Pop and Reggaeton.
At the head of the Motown scene, Marvin Gaye and Tammi Terrell were on artistic fire with this song and extend their collaborations on "You're All I Need to Get By," "Ain't Nothing Like the Real Thing" and "Precious Love." But "Ain't No Mountain High Enough " best combines their complicity, with the alternation on the verses before the vocal explosion on the choruses, the two artists sing in unison.
"Endless Love" was not only the biggest success for both artists, but it also marked by its longevity with 27 weeks spent on the US Charts in 1981. The song had a second life with the rendition from Luther Vandross and Mariah Carey in 1994. With silky softness, this duet requires a certain technique with beautiful harmonies.
In 2003, Beyoncé burst on the scene in a solo career thanks largely to the single "Crazy in Love", on which she displays her love for rapper and now husband Jay-Z. Fluctuating between soul, funk-retro and dance pop, the piece intersperses rap couplets from her partner.
In 1981, the two rock giants, David Bowie and Queen penciled each other in at a meeting in Montreux, Switzerland, to produce the title "Cool Cat." Unhappy with the result, the musicians freely embarked on a jam session, from which emerged "Under Pressure." The song flaunts the talent and vocal range of David Bowie and Freddie Mercury, between vertiginous climbs and scat passages that are perfectly mastered.
Want to sing in duet all of the time ? Check out our playlists Girl Duets, Battles and Love Duets.